*ATTENTION WOMEN*
DOES AIRBRUSH MAKEUP INTIMIDATE YOU ? AIRBRUSH MAKEUP IS MAKEUP TECHNOLOGY, AND LIKE ALL TECHNOLOGY, IT IS CREATED TO MAKE YOUR LIFE AND ROUTINE EASIER AND MORE EFFICIENT! WHERE WOULD YOU BE WITHOUT YOUR SMART PHONE OR FLAT IRON ? AIRBRUSH MAKEUP WILL CUT YOUR MAKEUP ROUTINE IN HALF, LEAVING YOU WITH A FLAWLESS, LONG-LASTING FINISH THAT CONVENTIONAL MAKEUPS CAN NOT ACHIEVE. IF YOU CAN USE A POWDER BRUSH OR PEN, THEN YOU CAN AIRBRUSH! THE LOW, MEDIUM AND HIGH SETTINGS MAKE AIRBRUSHING MISTAKE-PROOF. THE PRECISION OF THE AIRFLOW AND MAKEUP IS IMPECCABLE. NO MORE MESSY, COUNTERS, DIRTY BRUSHES, GUNKY SPONGES OR FINGERS. AIRBRUSH MAKEUP IS THE MOST CLEAN AND HYGIENIC WAY OF MAKEUP APPLICATION. NO MORE BREAKOUTS OR IRRITATION DUE TO PRODUCT CONTAMINATION. IT IS SIMPLY THE BEST PRODUCT YOU WILL EVER USE.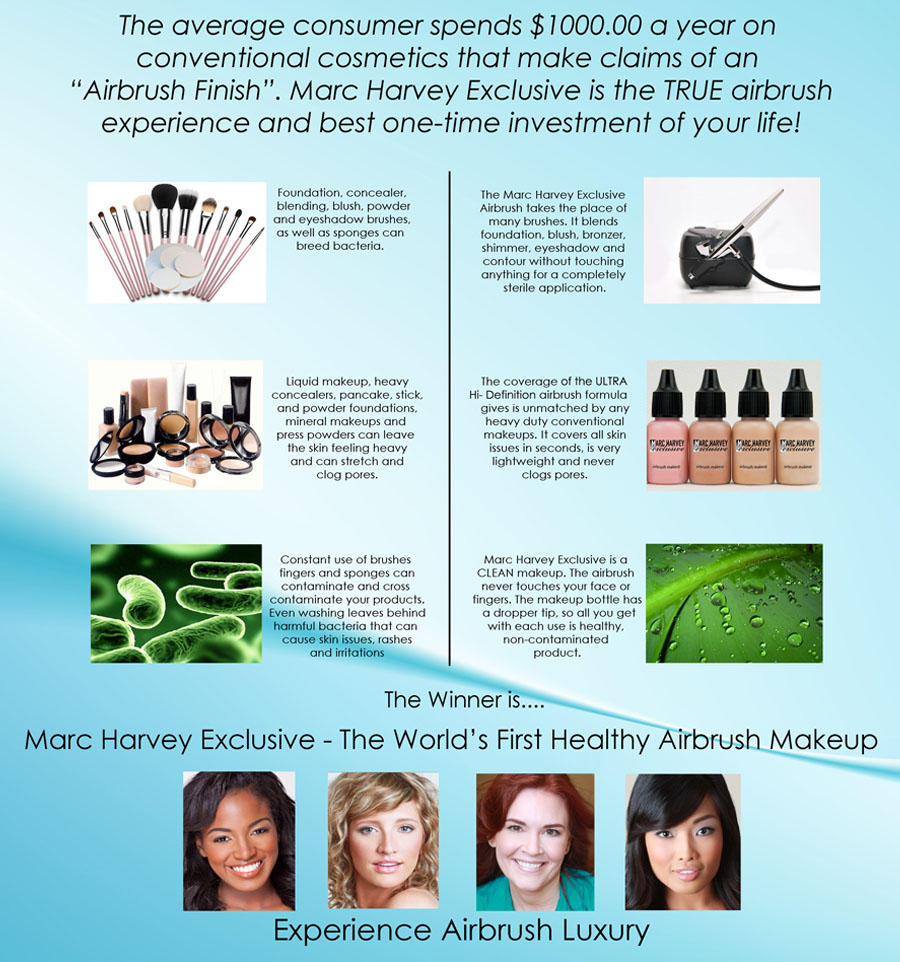 What is in my makeup that makes it healthy?
Aloe Vera –
Two of Aloe's more well-known benefits are the calming and healing effects it has on damaged skin. Some medical diseases such as acne – which inflames skin pores, producing swelling, irritation, pimples, and pustules – respond quite well to Aloe's soothing and healing benefits.
Green Tea –
Considering their well-documented antioxidant and anti-inflammatory activities, topical green tea polyphenols are also likely to slow down the development of some signs of aging.
Comfrey –
One of the most common uses of Comfrey extract is as a skin treatment. The plant contains the small organic molecule allantoin, which is thought to stimulate cell growth and repair while simultaneously depressing inflammation.
Ginseng –
Ginseng, a plant extract, is found in skincare products that can tone and revitalize skin. Ginseng can help balance the oil gland production and can smooth fine lines and wrinkles in mature skin.
Lemongrass –
Use of lemongrass oil on the skin can benefit the skin a great deal. Its antibacterial, astringent and antiseptic properties prevent and cure skin infection, prevent acne breakouts and soothe broken or inflamed skin.
Cucumber –
Cucumbers and cucumber extract also contain various minerals including magnesium, potassium and silica. The cucumber's nourishing, astringent and hydrating properties provide only positive skin benefits, which is something that is extremely important to you on a day to day basis.
Chamomile –
One major benefit of chamomile for skin is that it helps fight dry skin. Most often, you find chamomile extract or powder combined with natural soaps that help replenish the skin. Chamomile itself is an effective anti-inflammatory.
Orange Blossom (Neroli) –
Orange Blossom (Neroli) Oil is used in skin care preparations to stimulate cell regeneration. It has antibiotic, antiseptic, calmative and tonic properties and therefore is indicated for sensitive, oily, impure and delicate skin types. Orange Blossom Oil is non-toxic, non-irritant and non-sensitizing